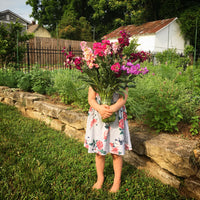 Urban Farmer Florist
Green Linnet grows specialty cut flowers using organic techniques on residential properties in Davidson County, Tennessee. In small spaces, I grow great beauty shared through custom floral arrangements. Currently the shop is closed for me to focus on family. However, you can still follow my small scale crafting and growing journey on Instagram at @GreenLinnets.
Learn More
Green Linnet Designs
Linnet Overton is an urban farmer, florist, and the lead designer at Green Linnet: Handmade & Homegrown. Based out of her home in East Nashville, Linnet creates unique floral designs that capture the freedom and beauty of the natural world, as well as home decor items, such as ceramic vases and pajaki that compliment local florals and seek to bring beauty to everyday activities. 
Learn More